Fates Divided ist live. Das es begleitende Update führt die imperialen Intrigen ein und überarbeitet den Fraktionsrat sowie Cao Cao und Yuan Shao.
Vorgestern ist das neue Kapitel-DLC Fates Divided für Total War: Three Kingdoms erschienen. Es fokussiert sich auf die Phase der Zeit der Drei Reiche, in der Cao Caos und Yuan Shaos Ambitionen China zu beherrschen, sie zu Feinden werden lässt. Creative Assembly hat dieses neue kostenpflichtige DLC, das standardmäßig 9,99€ kostet, in den gleichzeitig veröffentlichten Patch 1.7.0 eingebettet.
Unter anderem umfasst dieser Patch die Überarbeitung der Mechaniken von Cao Caos und Yuan Shaos Fraktionen, die anders als die Inhalte von Fates Divided für alle Spieler*Innen kostenlos ist. Darüber hinaus führt es die neuen imperialen Intrigen ein, gibt dem Kaiser mehr Funktionen, generalüberholt den Fraktionsrat und erweitert das Fraktionslevelsystem.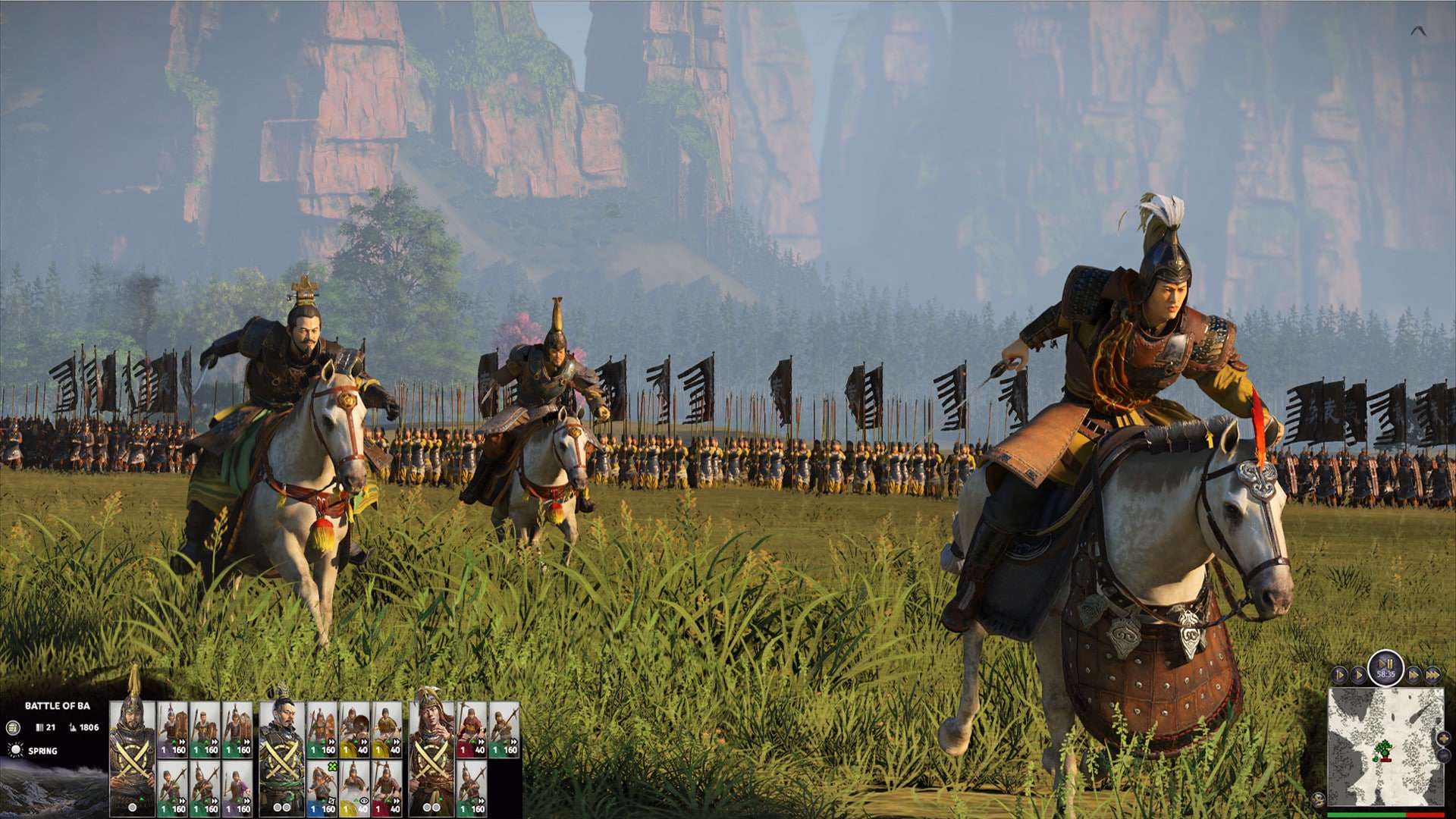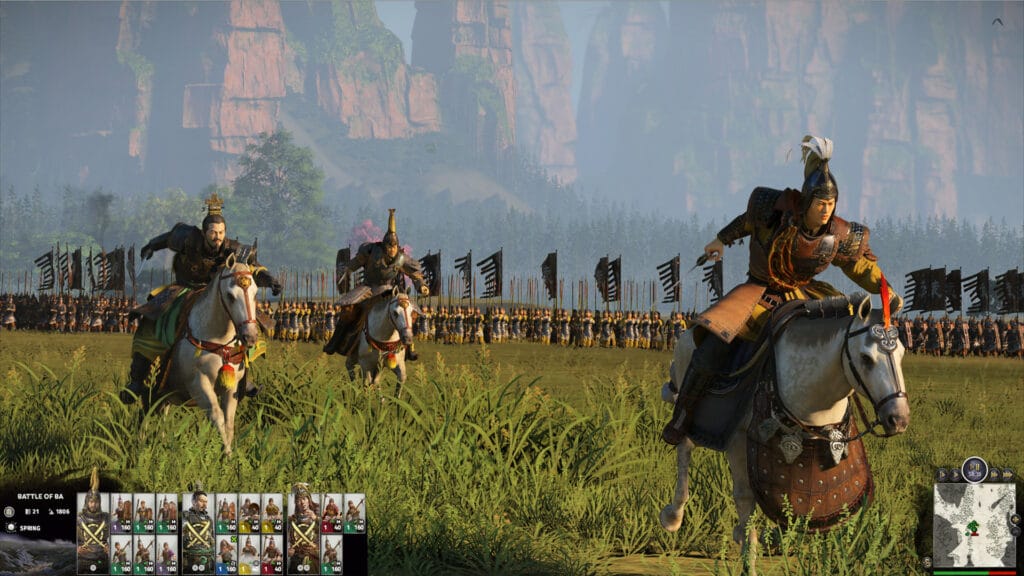 Das erwartet euch in Fates Divided
Das Kernstück von Fates Divided ist wie bei jedem Kapitelpaket sein neues Startdatum, das dieses Mal 200 C.E. beginnt – also zehn Jahre nach dem Start des Hauptspiels. Die Handlung dieses neuen Kapitels dreht sich vor allem um die Rivalität zwischen Cao Cao und Yuan Shao. Typisch für Total War könnt ihr euch aber entscheiden eine von acht anderen Fraktionen zu spielen. Darunter ist auch eine neue Fraktion, die exklusiv für das DLC ist. Zudem führt Fates Divided 20 exklusive Einheiten ein, die von Cao Cao, Yuan Shao und der neue Fraktion des DLC rekrutierbar sind. Darüber hinaus gibt es neue Ereignisse und Quests. Ausführlicher könnt ihr euch über die Inhalte des DLC hier informieren.
Pünktlich zur DLC-Veröffentlichung hat Creative Assembly einen neuen Trailer parat. Ebendieser stellt den Ausgangspunkt des Kapitels dar, der weitaus fortgeschrittener ist als die bisherigen Kapitel und euch mit bereits etablierten Reichen starten lässt.
Das sind die Highlights des kostenlosen Patch 1.7.0
Die wichtigsten neuen Features, abgesehen von der Nördlichen Armee, sind alle großen Spiel verändernden Features Teil des kostenlosen Patch 1.7.0.
Imperiale Intrigen und die Wiedereinsetzung des Han Kaisers
Eine der großen neuen Mechaniken in Patch 1.7.0 sind Imperiale Intrigen: Ab dem Jahr 197 nach Christus, also in dem Jahr in dem der Kaiser 16 wird, urteilt der Kaiser über Han Fraktionen. In Fates Divided wird diese Mechanik sofort ab Runde 1 aktiv. Dies drückt sich in Form des Imperial Favour-Scores aus, der symbolisiert, wie beliebt die Fraktion beim Kaiser ist. Hierbei erhält man Vorteile bei einem hohen Score, während ein niedriger Score dazu führen kann, dass man imperiale Sanktionen erhält oder zum Feind der Han durch den Kaiser erklärt wird.
Im Laufe der Runden einer Kampagne verteilt der Kaiser daraufhin Missionen, Sanktionen an Fraktionen, die nicht in seiner Gunst stehen, und Hilfen an solche, denen er wohlgesonnen ist. Auch die KI-Fraktionen reagieren darauf, wie andere Fraktionen zum Kaiser stehen. Stehen sie diplomatisch positiv zur aktuellen Protektoratfraktion des Kaisers, also der Fraktion, die ihn gerade kontrolliert, arbeiten sie gegen Feinde der Han, die die sich nicht für das Protektorat interessieren, ignorieren wahrscheinlich Ansagen des Kasiers. Weiterhin muss das Protektorat acht geben, nicht zu weit in der Gunst des Kaisers zu fallen, da sie sonst die Kontrolle über ihn verliert.
Passend hierzu gibt es eine neue Endgame-Mechanik den Kaiser betreffend: Eine Fraktion, die den Kaiser kontrolliert, kann beim Erreichend es Kaiser-Rangs den Han-Kaiser wieder einsetzen, statt sich selbst zum Kaiser zu ernennen. Dann wird der Han-Kaiser Liu Xie zum neuen Fraktionsanführer, der aber nicht in Schalchten einsetzbar ist, aber ein neues 2D Artwork und einen Skilltree hat.
Cao Caos und Yuan Shaos überarbeitete Fraktionsmechaniken
Fates Divided legt den Fokus auf die Rivalität zwischen Cao Cao und Yuan Shao: Patch 1.7.0 überarbeitet passend dazu, wie die Fraktionsmechaniken ihrer beiden Fraktionen funktionieren.
Yuan Shao kann neben Generälen auch Kapitäne seine Regimenter anführen lassen. Mit seiner neuen Captain Armoury kann er Letzteren nun hilfreiche Upgrades geben. Hierbei erhält jeder Kapitän seine eigene Armoury, die gwisser Maßen als Skill Tree für sie funktioniert. Zur Freischaltung der Boni dienen die Yuan Shaos Lineage-Punkte, die sich in der Kampagne sammeln lassen. Außerdem lassen sich Kapitäne nun frei umbenennen und es gibt eigens für die Kapitäne gedachte Achievements, die sie zusätzlich verstärken.
Was Cao Cao angeht, hat Creative Assembly seine Schemes überarbeitet. Sie dienen Cao Cao dazu, die Spielwelt nach seinem Gutdünken zu manipulieren. Dies reicht von kleineren Akten, die beeinflussen, wie andere Fraktionen Cao Caos Feinde wahrnehmen bishin zu großen Änderungen, die beispielsweise eine sichere Niederlage in einer Schlacht zu einem Sieg wandeln. Für Schemes muss der Fraktionsanführer der Cao Cao-Fraktion auf gewisse Bauer-Charaktere Zugriff haben. Diese haben die Aufgabe ein Scheme in die Tat umzusetzen und ihre Zahl hängt an der Anzahl an verfügbaren Spionageslots. Nach Vervollständigung des Schemes wird der Bauer wieder verüfbar. Zudem lässt sich Cao Caos Glaubwürdigkeitsressource nun für alle politischen Verträge einsetzen und sowohl durch Schemes sammeln und für sie ausgeben lassen.
Mehr Liebe für den Fraktionsrat und Fraktionslevel
Der Fraktionsrat, wie man ihn kannte, ist nicht mehr. Im neuen Rat spielen die eingesetzten Personen einge größere Rolle als zuvor. Alle  Mitgleder*Innen des Rates schlagen jeweils Ideen vor, zwischen denen die Spieler*Innen einmal pro Jahr wählen können. Diese Vorschläge bringen aneren Wirtschaftsfokus, erhöhen die öffentliche Ordnung, verursachen Rebelleionen bei Gegenern, geben Erfahrungsboosts oder anderes. Was für Vorschläge sie geben, hängt von ihren Charaktereigenschaften und der aktuellen Kampagnensituation ab.
Statt passiver automatisch freischalteter Boni beim Anstieg des Fraktionslevels Prestige-Punkte frei, die einen Boni fürs Aufsteigen auswählen lassen. Diese können beispielsweise mehr Assignmentslots, Administrationsposten und mehr mögliche Handelsverträge sein. So lassen sich die individuellen Stärken der Fraktionen weiter verbessern. Beispielsweise kann man für Cao Cao mehr Spionageslots freischalten oder mehr Handelsmöglichkeiten für Kong Rong erhalten. Nur sollte man sich die Wahl gut überlegen, da das Ausgeben von Prestige Punkten permanent ist.
Neue legendäre Charaktere
Abgesehen von den neuen Mechaniken führt der Patch 1.7.0 zehn neue legendäre Charaktere ein, von denen neun ohne Fates Divided an verschiedenen Startdaten verfügbar sind.
Wen Chou – ein gefürchteter Kavallerie-Kommandeur unter Yuan Shao – verfügbar zu den Startdaten 190, 194 und 200 nach Christus.
Yan Liang – General von Yuan Shao – verfügbar zu den Startdaten 190, 194 und 200 nach Christus.
Yuan Tan – ältester Sohn von Yuan Shao – verfügbar beim Startdatum 190 und ist ein Fraktionsanführer 194 und 200 als Vassal von Yuan Shao.
Yuan Shang – jüngster Sohn und Erbe von Yuan Shao – verfügbar an den Startdaten 190, 194 und 200 nach Christus.
Zhang He – Charakter in Han Fus Fraktion in 182 und 190, Teil von Yuan Shaos Fraktion in 194 und 200.
Yu Jin – Kommandeur unter Cao Cao – 182 und 190 Teil des Han Imperiums und 194 und 200 Charakter unter Cao Cao.
Cao Ren – Cousin von Cao Cao – General von Cao Cao 182, 190, 194 und 200 nach Christus.
Cao Pi – ältester Sohn und Erbe von Cao Cao – Kind an allen Startdaten – wird erwachsen im Jahr 203.
Lady Zhen – war in der Geschichte erst die Frau von Yuan Xi und später von Cao Pi – sie wird 199 nach Christus erwachsen und ist nur in Fates Divided verfügbar.
Fa Zheng – Bearter von Liu Zhang, lief später zu Liu Bei über. Er ist 194 und 200 verfügbar.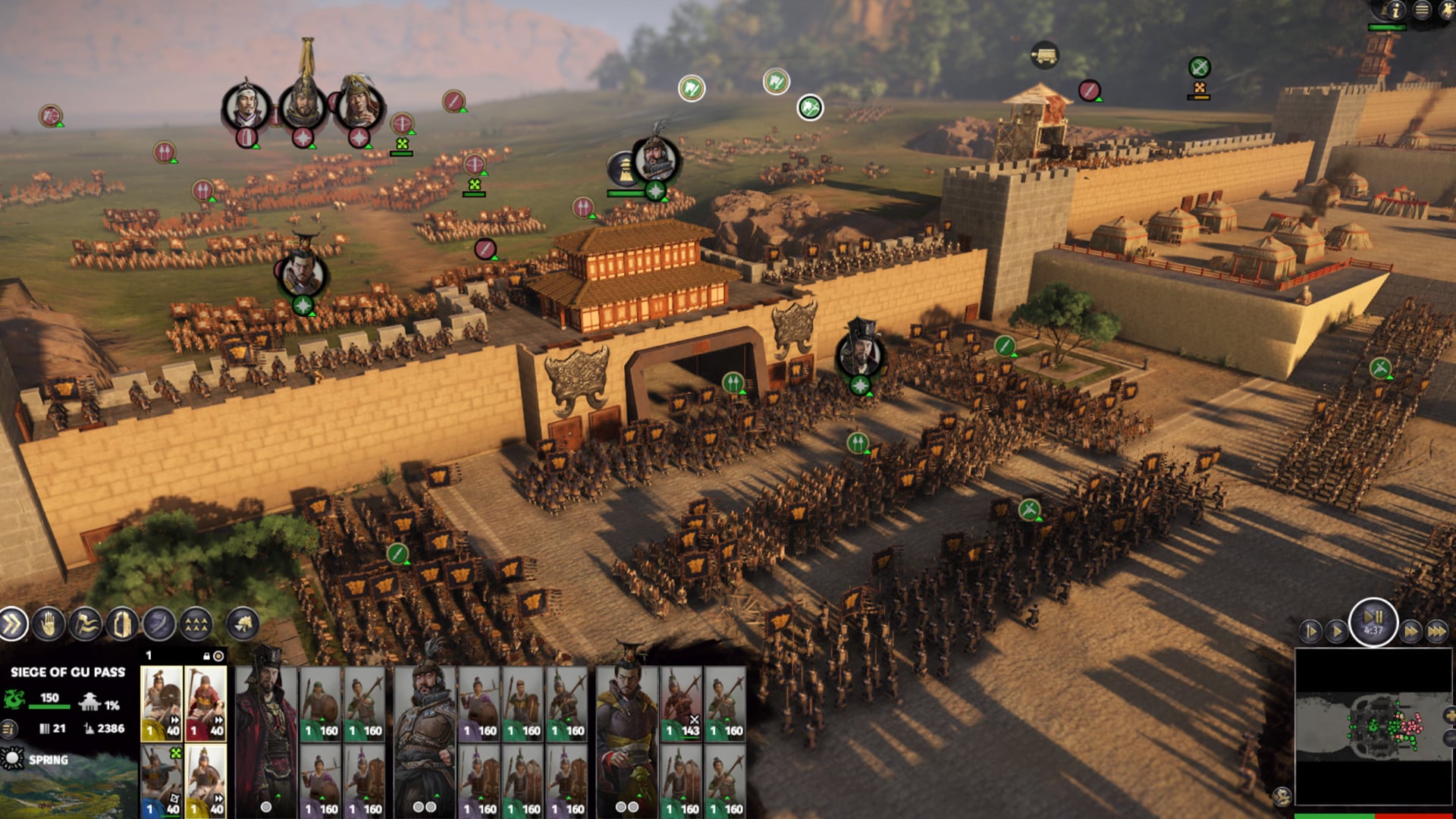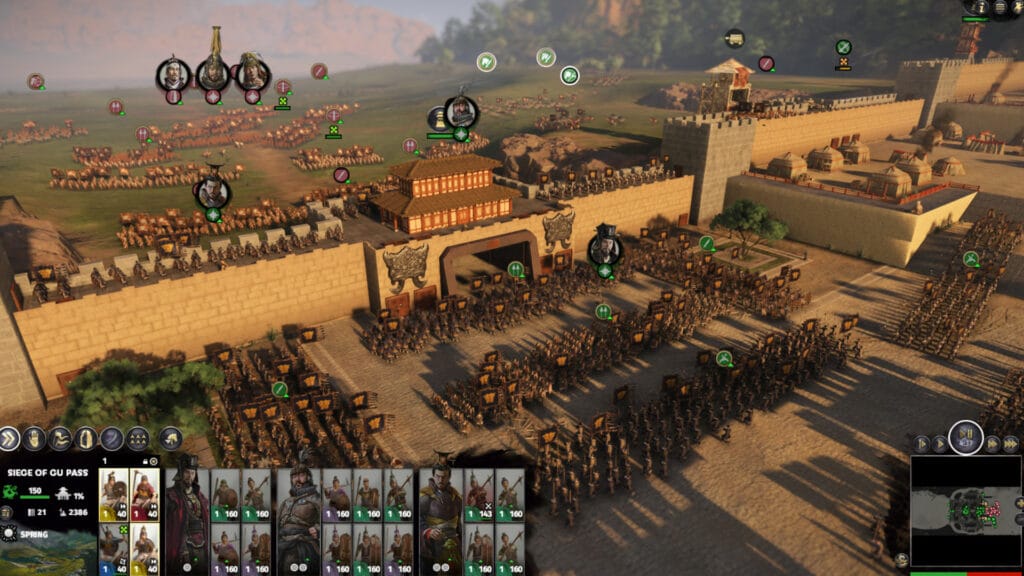 Patchnotes zu Balancing und Bugfixes
Darüber hinaus beinhaltet der Patch einige Balancing-Änderungen sowie Bugfixes für Total War: Three Kingdoms.
Balancing
Campaign
Changed Age of Adulthood to 16 years old across all campaigns. This was previously the case in 182 CE, but other campaigns had this at 18 years old. This brings it closer to the historical precedent
Gate Passes now give a bonus to commerce income in adjacent owned regions
Battle
Reduced tier 3 sentinel melee evasion from 80 to 60 in custom battle
Reduced tier 2 sentinel melee evasion from 48 to 28 in custom battle. This also effects tier 3 vanguards and commanders
Increased tier 2 and 3 champions melee evasions in custom battle to match vanguards and commanders
Increased Guan Yu's Green Dragon Blade AP from 1152 to 1324
Units
Changed Chen Peacekeeper cost from 800 to 850
Increased speed of units when exhausted
Doubled damage against routing units
Any heroes with morale lower than 50 have had their morale increased in line with the morale of other heroes. There is now less variety in morale between heroes and overall they should now be less likely to rout
Reduced charge damage of Nanman Tiger Warriors from 535 to 164
Reduced charge damage of Nanman Tiger Slingers from 325 to 132
Halved the splash damage of Tigers
Morale and Fatigue Changes
Minor changes that will help solidify the rebalance of cavalry and missile troops below, with the aim of shifting the battle meta away from cavalry and missile shock damage and onto a more combined arms, attritional combat system.
All units now have reduced morale when fatigued, with a maximum of -12 morale when exhausted
Decreased the morale impact of a general's death after the initial shock has worn off
Vastly increased the chances that one unit routing is likely to make another allied unit rout
Decreased morale impact from recent losses while increasing the morale impact from total losses
A unit is now only affected by terror when wavering, instead of shaken. This will decrease the power of terror
Slight reduction to damage when fatigued, with a maximum of -30% base and AP damage when exhausted
Increased fatigue regeneration when "idle" or "ready", which should see units regain stamina when out of combat much quicker
Decrease fatigue rate during combat, which should see units tire less quickly due to being in combat
Cavalry and Missile 
Cavalry and missile troops have been reduced in lethality across the board, with the intention of putting them in line with the current killing power of infantry.
Cavalry charges do less damage initially but now run further into the unit than they did previously
AP damage and accuracy of all bows has been reduced
Reload speed reduced slightly for bows and crossbows
Reduced chance for units to friendly fire with missiles
Missile units should now be less likely to run forwards when their line of sight is blocked
Cataphracts have higher mass, and should now be able to smash through enemy lines
Abilities
Reduced the lethality of caltrops by 90%
Reduced morale impact from flaming maces from -15 to -10
Guan Yu's Unstoppable ability now additionally grants 20% increase in AP damage, 10 melee defense and makes Guan Yu unbreakable
UI Quality of Life Improvements
Campaign
When you reach the capacity for a unit type, they will now be shown in the recruitment list but as invalid with a tooltip explaining why
Fixed an issue where the notification suppression options wouldn't function correctly
Fixed an issue where the notification toggle button would get out of sync with the current state
Bug Fixes
Campaign
Fixed a rare bug where characters would be adults but still have their child portrait
Meng Huo's Silver Pit Ravine event now provides a 25% reduction to building costs in the region
Fixed the Assignments panel showing fewer slots available for each character on assignment in the province than there should be
Fixed Wei Yan's armour so it is now unequippable (as this is his personal armour)
Fixed Nanman tier 5 Regional Palace giving bonus to peasantry income instead of bonus to all income
Fix for character used for Yang Hong's name in Chinese; 洪 replaced with 弘
Fix for Liu Bei's character trait that increases militia unit rank so that it applies when regionless as well
Fix for Yuan Shao's duke rank having the wrong captain retinue bonus
Fix for some of Shi Xie's tribute chests having the wrong effect scopes, causing the bonuses to not apply
Fix for Nanman players being spammed with untradeable common ancillaries. They were wrongly set so it was possible to gain them after battles – this is no longer true
Fix for some characters wrongly getting the Miasma buff:
Fix for Xu Shu not being able to equip the correct weapon types (Twin Axes, Twin Swords, Twin Maces)
Fixed discrepancies between front-end traits and in-game traits for Shi Xie
Career trait bonuses for Dong Zhuo, Lady Zhurong, and Meng Huo now match between front-end and campaign
Fixed issue where Xiahou Dun and Xiahou Yuan could spawn randomly before events
Fixed issue where the experience bonuses for Xun You were wrongly mixed up between Romance mode and Records mode
Fixed some effect bundles using incorrect icons for unit melee stats
Fixed issue where Lü Bu's Momentum mechanic was not properly counting successful duels
Fixed issue for Lü Bu and Sun Ce where the sub-objectives for their mechanics were not being ticked off properly on the UI
Sun Ce's Ambitions will now correctly track if the player gains regions in ways other than military occupation after a siege
Fixed issue where exiting the quick diplomacy screen would reset the campaign camera angle
Fixed issue where the title button was appearing for Yellow Turban characters
Fixed issue where famous characters could be born to the wrong parents
Weapons can no longer be "stolen" from characters post battle if they were not captured
Fixed issue where Liu Biao's vassals were not giving Governance at campaign start in the 190 CE campaign
Fixed issue where Mercenary Contracts were not working correctly and players were not receiving rewards for them
Fixed an issue that could cause Gan Ning to spawn multiple times in the same campaign
Fixed issue where annex was not working correctly for Liu Hong when he has Dynasty tier 3
Fixed issue where only one title would be shown as unlocked per turn, even if multiple were actually unlocked
Fixed issue where peace with a faction was unavailable if the target faction joined a military alliance while having an alliance war
Fixed issue where rebels wouldn't spawn for Nanman-owned regions outside of Nanman lands
Burning Mace weapon now has correct stats in Records mode
King Mulu will no longer lose his 25% Family Estates income bonus when saving/loading
Battle
Fixed issue where melee units were not properly attacking barricades
Fixed issue where multiple building levels were appearing on top of each other in siege battles
Increased infantry turn rate – this should fix issues where certain cavalry units couldn't remount
Fixed issues with the reload rate not being correctly applied by the Miasma ability
Fix for the following characters missing weapons in battles:

Huang Gai
Guo Jia
Jia Xu
Pang Tong
Diao Chan
Xun Yu

Xun Yu and Diao Chan now can correctly use their abilities in battles
Varied the armour values of the unique Nanman characters (Meng Huo, Wutugu, Shamoke, Lady Zhurong)
Fixed the range of Imperial Palace Crossbowmen – this is now 250
Fixed issue where upkeep costs for White Horse Fellows and White Horse Raiders were the wrong way round
Fixed Wolf Pack unit special ability not correctly triggering when in range of another Wolf Pack unit
Xun You now correctly gives formations in custom battles
Fixed an issue where you could stack the Flaming Mace ability when using a hero and a unit against a single target, creating a -100 melee defence and -30 morale debuff.
Fixed a placeholder icon that appeared on Lady Zhurong's Flying Daggers ability
Removed caltrops from Azure Dragons due to an issue where the unit would become stuck when trying to deploy them while in Mixed Spear formation
Fix for Rending Strike ability not working when character is equipped with a short weapon
Fixed issue where Wutugu had 100% melee evasion in custom battles
Defensive Siege AI behaviour slightly improved on some maps where there were mistakes in the logic markup
Quelle: totalwar.com